The 'every day' has always been an interesting subject to me, though it usually slips most people's minds. It has always been the extravagance that seems to catch people's attention. However, it is truly through the mundane where people find real connections. Whether it'd be the objects that bring you joy; the notion of hygge; or the social media pictures that are hash-tagged with slow living, these essences in our everyday lives boil down into intriguing starting points for artworks and cultures, particularly during this chaotic year of 2020.
'I want the exhibition to work as a deadpan joke – one that is not funny enough, but still manages to make people laugh because it fails at making people laugh'. – Nicole Wong
Rossi & Rossi presents After Nothing Happens, the first major solo exhibition of Hong Kong artist Nicole Wong (b. 1990). As a mixed-media artist who has graduated from Nottingham Trent University with a Bachelor of Arts in Fine Art in 2012, Wong's works are quiet yet highly introspective. Using everyday objects, common materials, the idea of semiotics, and her daily surroundings as inspirations for her art, she questions the idea of physical form versus meaning, sentiments, desires, and the limits of communication. For this particular exhibition, she continues to "demonstrate her continual investigation into the themes of space, time, destiny" but furthermore, dedicates herself into the exploration in the comical side of failure.
The work that stood out for me is definitely Études (2019–20).
"Comprised of musical scores in which the notes have been transcribed from recordings of piano practice sessions", this piece is inspired by Wong's neighbor's extremely repetitive piano lessons. Not a strange experience for most of us who live in Hong Kong, as we often find ourselves unconsciously monitoring the progress of our neighbor's music lessons. We hear their mistakes through our thin walls. We silently cheer them on, or we critique on how he or she never gets past that one note. Wong has recorded this experience through Études, silver lining this example of failure and also questioning us what the word failure actually means. For her and for us, the lack of improvement by the neighbor " suspends the listener's expectations indefinitely", however, for the pianist, this is his or her journey to achieving. This document which contains all of the mistakes becomes the evidence of "the player's unyielding spirit", giving this common experience such fruit to ponder upon.
NICOLE WONG | After Nothing Happens
Rossi & Rossi
13 June – 1 August 2020
Opening: Saturday, 3pm–6pm, 13 June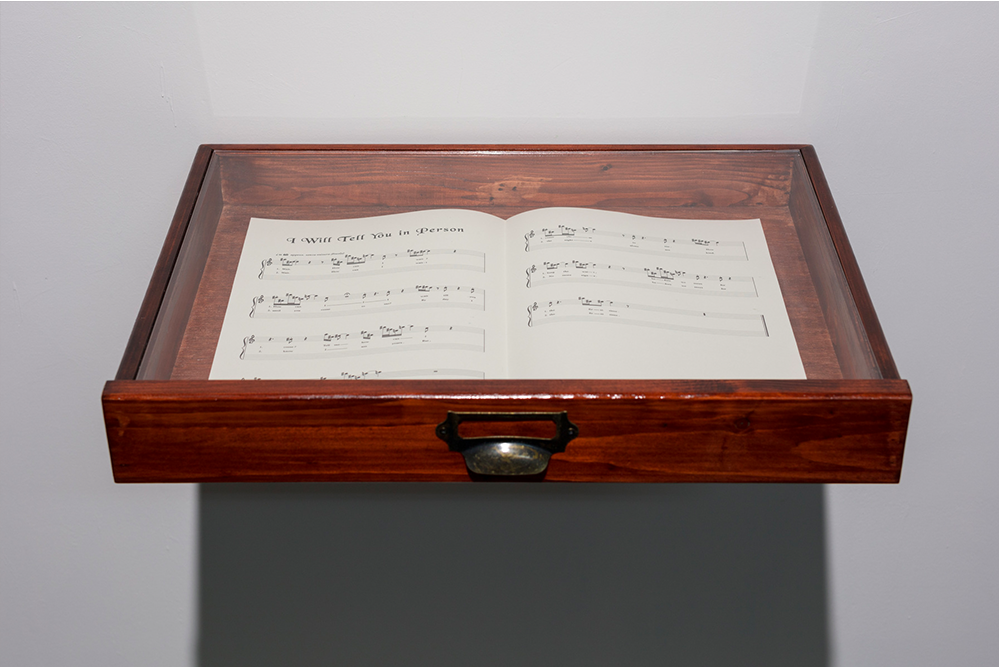 I Will Tell You In Person, 2017, Music sheet in a filing wooden cabinet drawer, 7 x 50.5 x 38 cm (2 ¾ x 21 ¾ x 15 in)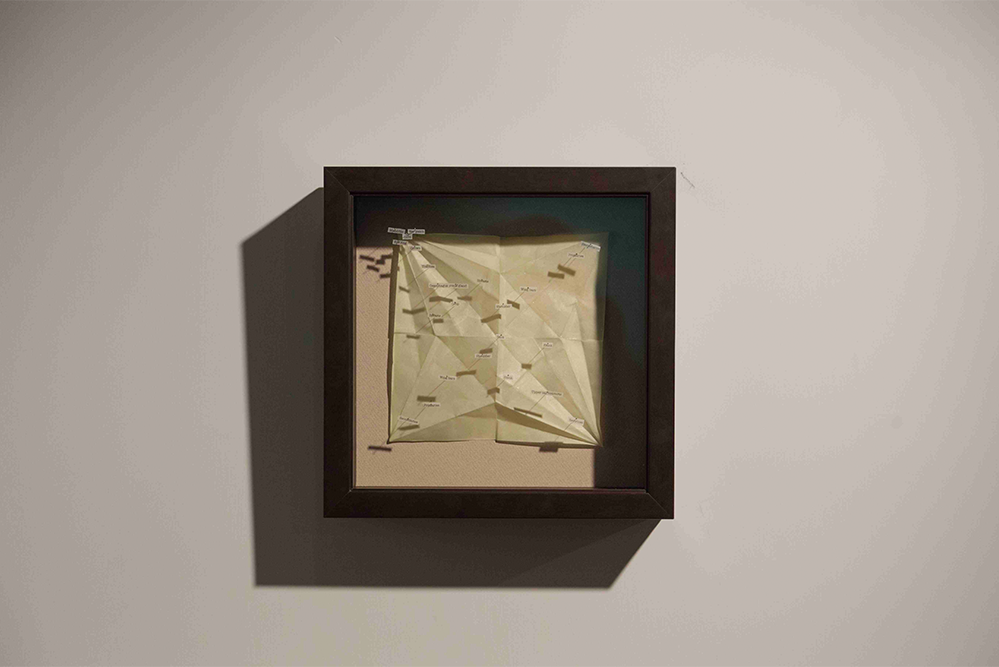 Dead Bird, 2013, Paper, text and specimen pins, 28.5 x 28.5 x 7.5 cm (11 ¼ x 11 ¼ x 7 in)