Bang Sang-ho has always been an artist who intrigued me both visually and mentally, due to the inimitability of his intricate yet striking style. There seems to be a gravitational force across every inch of his canvas, precisely because there is so much going on. His works mercilessly draw my gaze into every nook and cranny where he has prepared hidden surprises. Behind the vibrant and kaleidoscopic aesthetic lies Bang's sensitivity towards his own emotions, worldly visions, and perception of beauty. By playing with the visuals of craters and "holes", Bang gives his audiences the autonomy to feel and perceive the imaginative environments and planets that he envisions. While words like 'psychedelic' and 'otherworldly' are commonly used to describe his illustrations, there is a touch of familiarity in the shapes and forms they depict.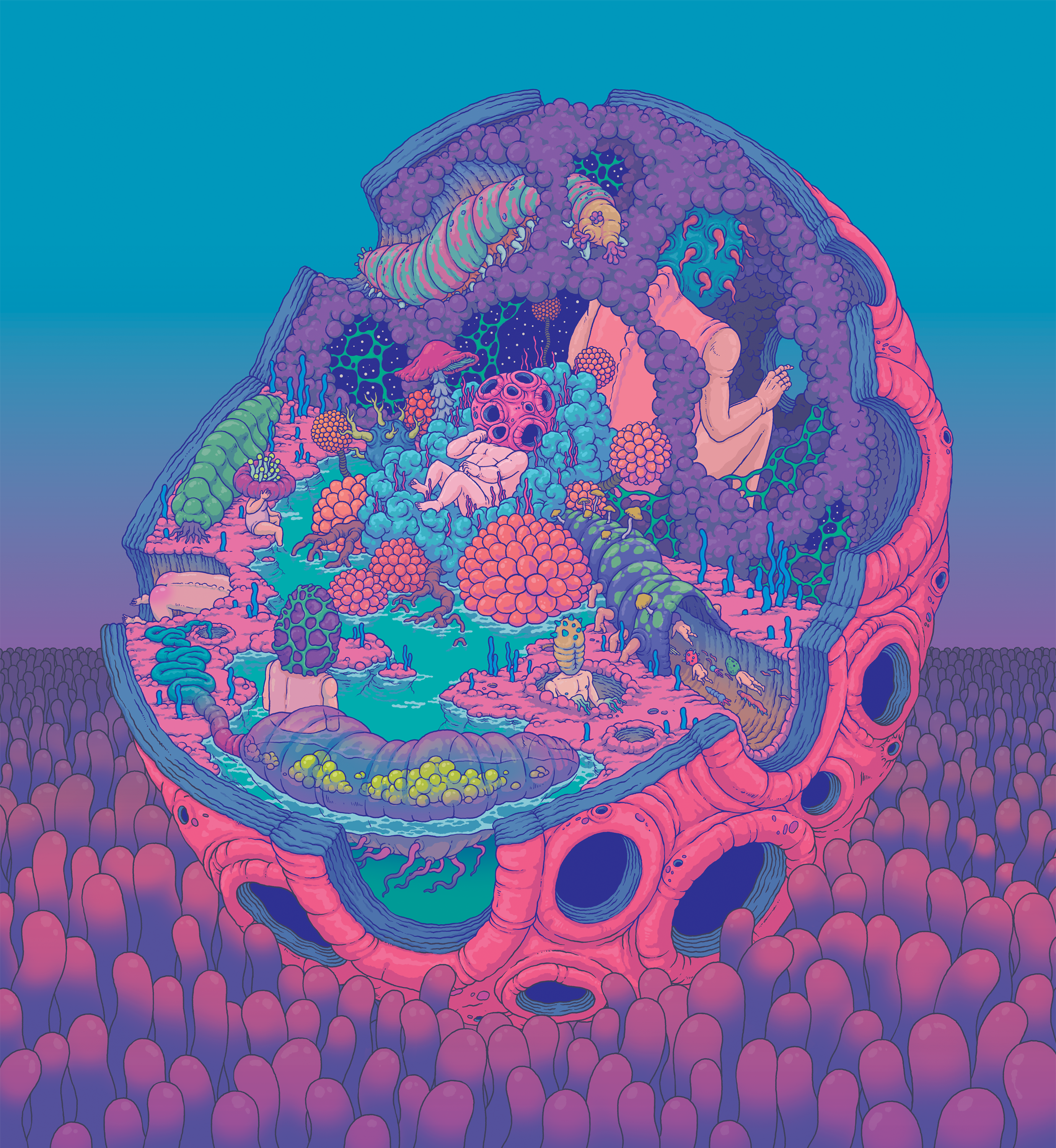 i) Please describe your artistic style in 3 words.
'Connect', 'creation', and 'explosion'.  
ii) What have you learned about yourself through your works? 
Painting is a medium of emotion for me. Whenever I am happy or depressed, I spend my time drawing pictures. In particular, I drew when I wanted to escape from daily stress or distracting thoughts. When I look back on my paintings from several years ago, I can read and revisit the emotions that I felt at the time. Each piece carries a different atmosphere in its shapes and colors. Therefore, I think the work itself is similar to the unconscious form. The organic form and psychedelic colors reflect the best representation of my unconscious feelings.  
iii) Please tell us one favorite comment (compliment or criticism) that you have received on your art. Do they affect you?
Most people seem to see my paintings as "psychedelic", or describe them as depicting a "beautiful world". I am grateful for the accuracy of my intentions in these comments. However, the comments of others do not seem to influence the theme or direction of my work. Apart from technical feedback, I think that it is important to believe in the philosophy of art.
iv) Your works can be interpreted as a marriage between elements of the universe, nature, and the human cell – which can appear as three seemingly contrasting themes. What is the meaning or message of your artistic vision?
Human cells, nature, and the universe are incidental objects in my work. In particular, the cell and the universe do not help define the size of the planets or substances I want to make. Therefore, Holes embodies the best definitions and visions of my art. When I look into the holes, I can see another world appear, as well as other holes inside of that world. Such a connection between the worlds, which is formed by the holes, is able to remove our guess about the world's size or actual location. This allows space or the organisms living in it to be as small as cellular particles, or as large as the sun. Other people and I thus take the position of 'God', where we participate, observe, and feel these holes.  
v) What are some of your sources of inspiration? 
I like the essential beauty of life itself rather than it being perceived with a scientific approach. When I was young, I created a scrapbook by using pictures that I had taken, or ones that I had downloaded and printed from the Internet. I remember looking at the scrapbook many times. Therefore, I think that afterimages of images, daily experiences, and emotions inspire me in heavy and complex ways. My works are also influenced a lot by music. I usually enjoy listening to M83, TheXX, and Korean Indie Music.  
vi) If you could play God for a day and create your very own planet in space, what would be essential?
I will drill holes in these planets.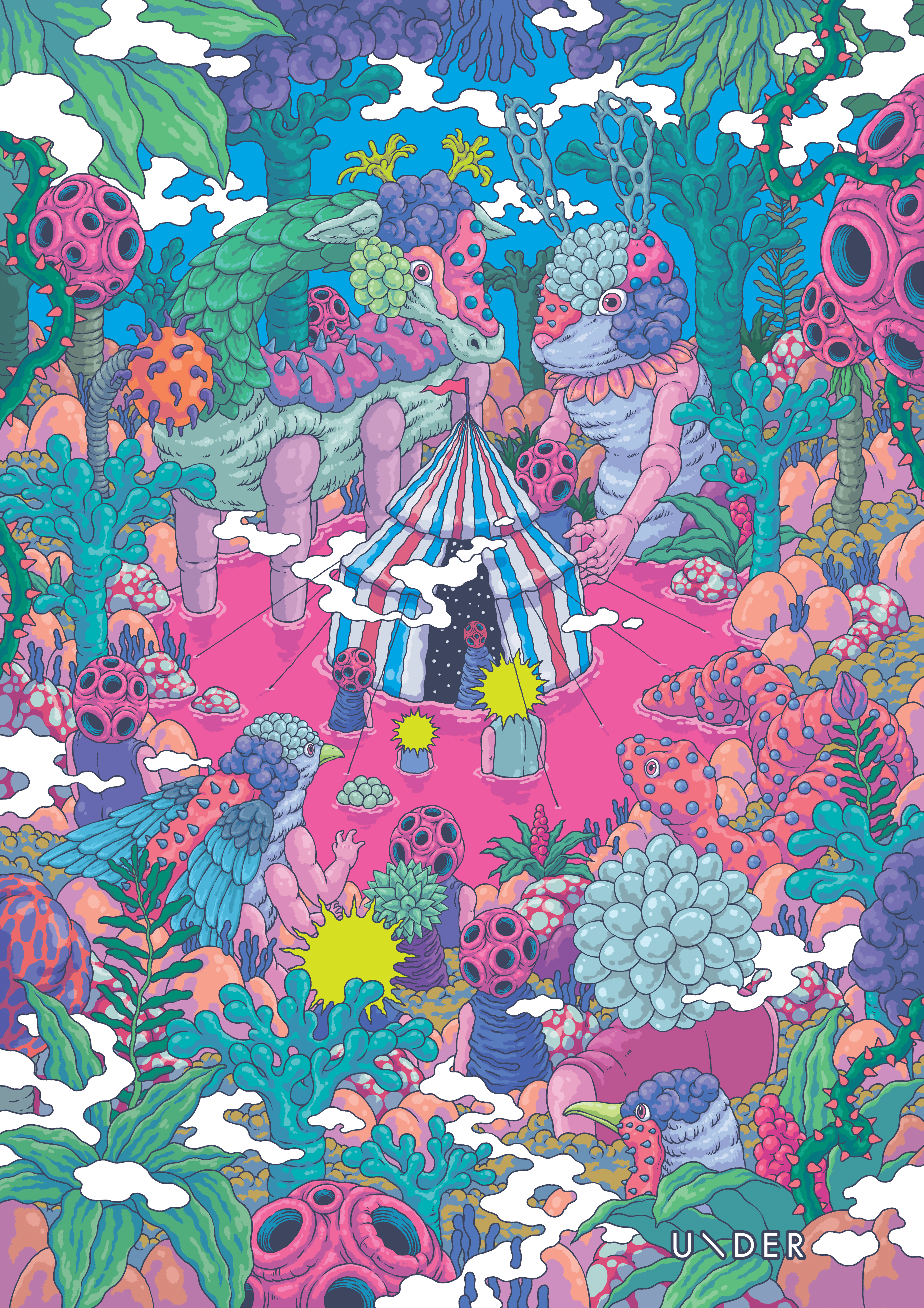 vii) Tell us all about your creative process.
For personal works, ideas are not artificially produced. I see the image passing through my head and then I move it onto paper. I usually create artwork using digital media and technology, but I make a detailed sketch of my ideas on paper too because I like a pencil's stroke. Then, I transfer the sketched ideas into a digital picture, and sketch them again on my computer, and then paint them. Recently, I've felt uncomfortable with the textures and the expressions of digital work. Thus, I have been creating digital work and works by hand, such as acrylic paintings, at the same time.  
viii) As you are based predominantly in Korea, what are some of your favorite things about the country, and how do you think your environment influenced your work if it did?
Perhaps it feels a bit like Hong Kong or Japan, but the best thing about Korea is that our daily life is fast-paced. Korea does not seem to lag behind other countries in technological terms. Daily life is convenient, and even more so for people who work with computers like myself. I have no limits in terms of workspace because I can use Wi-Fi wherever I go. Also, if I wanted to, I can easily find the latest products needed to produce art locally.  
ix) Are there any artists who you would like to collaborate with in the future and why?
Collaboration with illustrators or graphic designers can give new feelings and perspectives – but I prefer to preserve the identity of the artist as being perfect on its own. Therefore, I would like to work with people in different professions and fields, such as with musicians and florists. I would like to create a space to stimulate our auditory and olfactory senses.  
x) Lastly, are there any upcoming projects that you would like to share with our readers?
I work on producing animation, goods, and on canvas simultaneously. These days, I usually work on acrylic paintings. If possible, I would like to have an exhibition sometime next year, and I would like to show my work through this exhibition to STUVVZ readers as soon as possible!      
A great thank-you to Bang Sang-ho, and images courtesy to the artist himself.