Novel Fineries is a budding design brand with an inspiring ambition. Their aim is to revitalize heritage art and to bring different dying art forms to the attention of modern day consumers. STUVVZ has previously talked to June Lau, designer and founder of Novel Fineries, on their S/S 2017 pocket art collection. In this interview, we learn about their continued effort in preserving the artistic history of heritage art, and the challenges that they have faced during the creative process of hand embroidery. Novel Fineries' aim to narrate the stories behind handcrafted art, and their sense of beauty is aptly pronounced in the delicacies of their pocket art.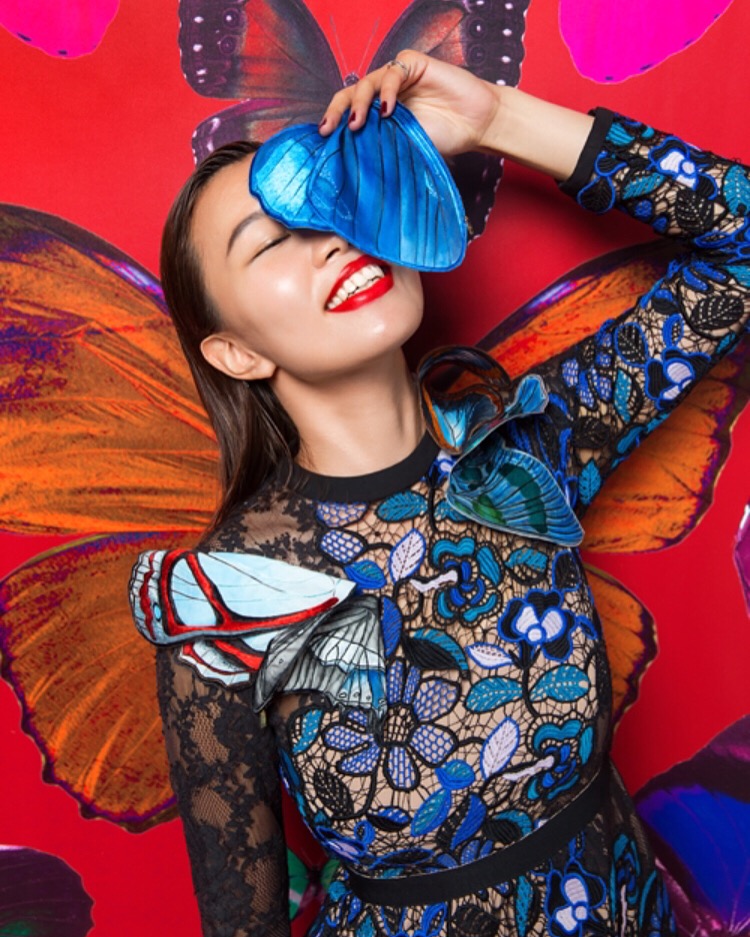 i) Please describe Novel and Pocket Art in 3 words.
Heritage art, handcraftsmanship, and stories.  
ii) Why butterflies? Why did you choose to create a response to the principles of lost art in Chinese culture?
One of our primary goals at Novel Fineries is to revitalize heritage art, namely the form of the double-sided embroidery technique featured in our very first collection. In the beginning of my career, I designed machines and healthcare products, but then I started to realise that people had other things they wanted and longed to design. During a trip out to the countryside where the manufacturing factories are located, I came across local souvenir stores trying to sell handmade art and crafts, and this was how I first encountered the double-sided embroidery. It is a dying art form that may not be passed onto the future generations. Double-sided embroidery is a technique where an intricate embroidery is worked on only one side of the silk, but will also show up on the other side as well. The artistic concept of the butterflies came from the phrase "you give me butterflies". The pocket art in this collection was initially designed as a gift for men, as it is worn over the heart and represents the honest, raw emotions towards a significant other.
iii) Please tell us more about the inspiration that the Shouzhou embroidery has had for the brand. How did you come across it, and what was so captivating about it?
The Su embroidery technique originated from the Shouzhou province in China, and in our studio, all of our works are handmade. Every piece has around 300 to 400 stitches and takes up to 35 hours to produce. There are the hand-embroidered and the hand-painted style, where our masters replicate real butterflies in their aesthetic. The patterns on our designs are tailored to specifically to reproduce the uniqueness of these animals which we admire. The velvet and transparent-looking parts on our designs mimics the veins and the structure of the butterfly wings, and it is done with paint. Each and every one of our piece tells an exceptional narrative, and they are all tailored to reveal a deep and meaningful story.
"Nowadays, there is an absence of history behind products, and fashion is oftentimes short-lived."  
iv) Heritage art – what is it? What would you like to tell people about it and why is it important?
Heritage art is so important to me because of its history. Japanese people are great at preserving their historic artforms, and this often means that their youth can get to appreciate them. This maintains a great mentality that continues for generations. This allows for traditional art forms to still be created in present day. Today, everything is machine-made and artificial, and it lacks the emotional connection between the creator and the work. Nowadays, there is an absence of history behind products, and fashion is oftentimes short-lived. This makes me sad because as people want more; we also have less to give. I wish that heritage and handcrafted pieces can be treated more endearingly, since they are less likely to go out of fashion.
v) What are some of the challenges that you and your team had overcome during the creative process? Are there anything that you would do different in the future?
The one setback that our team had to cope with is the staff that has left midway. It's possible that it was because they grew out of love. We realized this, and being a small team, we knew we had to support each other's roles. It's really hard to see people go, but we pushed through and became stronger. One challenge related to the artistic process would be the hand embroidery itself! As we consulted different masters, and since every piece of work was custom-made, getting the colours right each time was particularly difficult. The stitches and styles also needed to differ. However, this challenge is what makes our work unique.  
vi) Name one place that you frequently visit for inspiration or for a break.
The yoga studio! Hot yoga gives me wonders – it relaxes me, and I'm one of those people who have to exercise every day. It gives me some thinking time, and is like a short getaway from the bustling work life.  
vii) Are there any creative individuals or designers that you would like to collaborate with in the future?
Too many! Though, if I had to choose one, I'd say Vancleef Apparels, a high-end luxury jewellery brand that have common values with Novel Fineries. Each of their pieces is also handmade, and they have sculpted an incredible brand image consisting of myths and stories. They use a lot of rubies, diamonds, and jewels, and they know how to bring out the history in every gem, as they acknowledge that each piece of gem is imperfect.  
viii) Let us know your plans for 2017! What do you have in your creative agenda?
We only produce one big collection every year since I don't want to rush creativity and want everything to be great. This coming April, we will be launching blazer pins and other miniature art forms. The smaller a piece of work is, the more difficult it is to create. We are also aiming to launch a female product accessory line, which will narrate another heritage art form.   Check out Novel Fineries' latest collection at www.novelfineries.com.