The first time when I visited, the store was about to close. Knowing that it is a store worth spending hours in, my family and I decided to visit the tea house on the next day. We ended up going to their second branch, which is located on the ground floor, next to the main road. The sky was dull that day, and there was even a loud street construction going on just outside the door. Surprisingly, it did not wreck our mood. Even though I can still hear the noise outside, I naturally felt relieved once I stepped inside the door. No wonder my cousin insisted that I must squeeze time to visit Lily of the Valley.
Behind the counter was Pauline, the owner of the tea shop. She was busy talking on the phone, and her hands danced around a batch of loaf as she took them out of the fridge to be placed onto the beautiful display tray. The interiors of the store looks as if an Instagram filter was applied over it, because everything looks particularly soothing and calm. I glanced over at the glass display case and couldn't help but see my own, hungry reflection.
"What would you like?" Pauline asked as she got off the phone. I pointed at so many things that even I laughed at myself. That afternoon at Lily of the Valley was so fulfilling, I decided to follow up to learn more after I have returned home to Hong Kong.
I) Can you please tell us a bit about yourself?
I would define myself as an everlasting passionate dreamer. I think happiness is everywhere and in each thing. I love people, meeting new people, ecology and the idea of "healthy food" in a French way. Being a bit old school, I also like to do everything by myself. I quickly realized that food is the key to a healthy life. Good food does not go necessarily have to be based on how fat or how sweet it is, it is through the quality.  
ii) Can you please tell us a bit about Lily of the Valley? What does the name Lily of the Valley actually stand for?
The idea of Lily of the Valley appeared after my second daughter was born two and half years ago. I was working as an asset manager in the real estate industry, but this role did not match my personality. I felt that I needed a new challenge more matching to my values. I then started from scratch and went to a very famous pastry school in Paris called FERRANDI. There, I learned the basics and started to make my own recipes which are less sugary and fat. A lot of my values and the atmosphere that I wanted to give to Lily of the Valley was very obvious to me ever since the beginning. My mom gave me the nickname Lily when I was a kid because it is the name of a flower that flourishes only once a year. It also brings good luck. (In France, it is called "muguet".) It makes me think of not just the flowers themselves, but also a sense of sweetness.  
To work in Lily, you need to be joyful, energetic, curious and love sweetness!
iii) Tell us a bit about the décor of the two stores. How about the cups and the tea pots?
Decor is indeed very important! I wanted to mix the idea of a Salon de thé with Alice in Wonderland, which is my all time favorite fairy tale. The idea is inverted into the flooring and the ceiling, but I also wanted to create an enchanted bubble, an in-temporal moment for our patrons–– this way, it would make them remember us. The tea pots and cups are a big deal in this décor, but they were also chosen for ecological reasons. They are offered a second life at Lily's.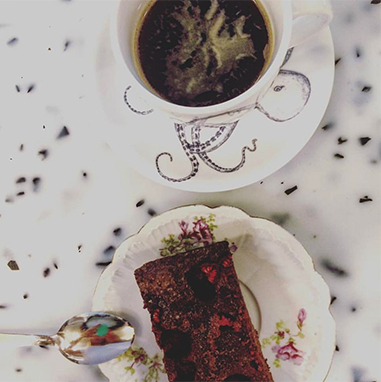 iv) How do you source your tea leaves?
Our selection consists of 40% origin teas, 50% flavored teas, and 10% infusions. Our teas come from many places, including China, Japan, India, Africa, South America. Our infusions are 100% made in France. Our first criteria is the quality of the tea leaf, its culture, collection, and fermentation. I have tasted every single tea before I picked them out. I think I may have tasted more than 500 teas to make up my selection. For flavored teas, another very important criteria is that we never serve any synthetic flavor, which makes our selection rare. Finally, our teas and especially our infusions need to have virtues so that our customers can relate to. For instance, Pu-erh can cure digestive difficulties; sencha has draining qualities; matcha or maté for a lack of energy; and rosemary when facing sinus issues. I believe that the force of nature is able to make us feel better.  
v) In Paris, a place with such a strong coffee culture, why did you decide to venture off into tea instead?
Because, in spite of stereotypes, tea is the second most consumed beverage in the world. Drinking tea gives people huge satisfaction and it helps with general well-being. I want people to be able to consume good teas easily so that they can discover and learn how to treat themselves well. I have already talked to many people into quitting coffee and they're all thrilled.
vi) How do you usually start off your work day at Lily of the Valley?
My workday begins early! At 6am I start preparing for the sweet and salty foods. I make around 20 seasonal cake recipes, and I choose the ones that I will sell on the day. Every day I make one more elaborate recipe like a fraisier, a cheesecake, a lemon curd pie, a caramel pie, or fruits muffins.  
vii) How do you juggle your time between your work and family life?
It is often hard to deal with everything at the same time, and that is why I close my shop a bit early, at 6pm. This way, I am able to spend time with my girls and not feel that I'm missing on their growth. My family is my balance and my motor.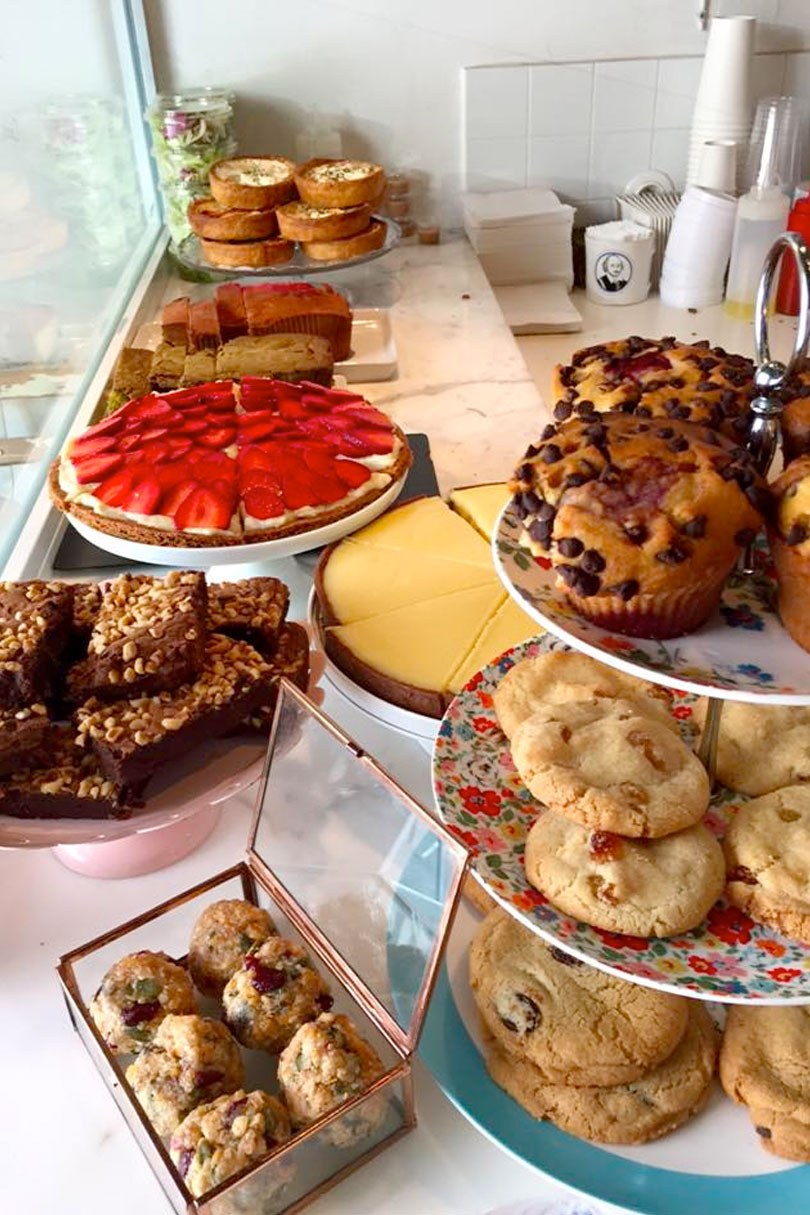 viii) Tell us one of your most memorable experiences at Lily of the Valley.
My best memory? The gorgeous American actor Bradley Cooper asking me for an iced tea in French! On a more serious note, I can't tell you about any specific memory. It is a great daily joy to meet people, feed them, and care for them. I started the tea shop alone but I now work with my husband and I have hired two people, so being able to say that I managed to open two stores, give people jobs, and live from my own work is amazing. I'd like to give you a small scoop! I'll be opening a third venue, where we will give french patisserie classes! Lily of the valley – l'atelier // 7 rue Commines 75003 Paris  
ix) What makes Lily of the Valley different from other tea houses?
I like to think of Lily as a person. When you have tea in one of our shops, you will be welcome like you are at our home… I think our venues are true, sincere and engaging. We pick up every detail, package, and our supplier with great care. We uphold a philosophy that respects the environment and ourselves. I'm presently looking for an environmental association which we could give part of our gains to. I am also interested in participating more actively in environment protection because I know that even the smallest gestures count.