Japan, to a lot of us who were born in the '80s or before in Hong Kong, would be referred to as our "real" home. 
It's no exaggeration. In 90% of our upbringing, we were bathing in Japanese culture, eating Japanese food, shopping in Japanese department stores, watching Japanese anime. We'd go and buy Japanese magazines from underground centers in Mongkok after school, fan girl-ing over the latest Johnny's Jr boy group. Guys would be next door scavenging for comic books or video games, to be read or played while their parents watched Love Generation or Long Vacation in the other room. We were literally Cantonese-speaking munchkins not so different from our stranger siblings in Tokyo and Osaka. 
In the beginning, it was the glamour, but those who still find a fascination with this country definitely resides in appreciation. 
There is a reason why their printed magazine industry is still alive, their second-hand vintage shops vibrant, and their Matsuri never regarded as an old man's game but an anticipated event by all ages. 
This is the biggest reason why I have approached Philip and Mary, the mastermind couple behind drain.art, a legendary 6-minutes funded Kickstarter project on creating Japanese Manhole Cover Art. These '70s born Hong Kongers have not only learned from the Japanese culture but have adopted their vision, to not only preserve the heritage but to continuously give light to it through new inventions.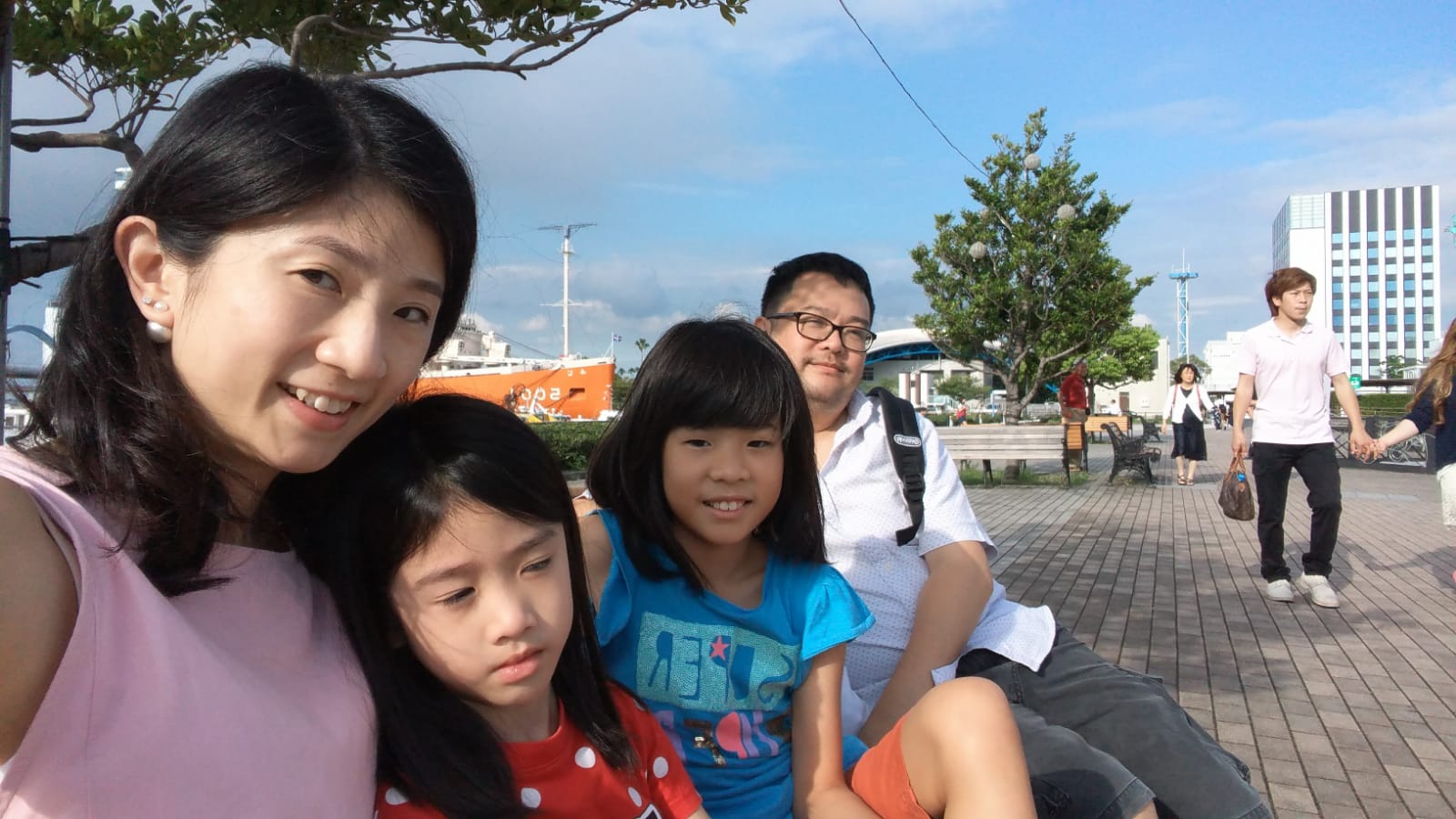 i) Can you tell us more about yourself and Mary and how the Japanese aesthetics have influenced you both?
We are a Hong Kong couple in our forties. I was working in different advertising agencies as a creative before I quit and started making designer toys (Classicbot) and other creative projects four years ago. I met Mary when we were working in the same agency. She was an account manager back then and now a marketing executive. But she has always been a creative person. 
Hong Konger in our generation is really into Japanese culture. We were exposed to J-pop when we were kids, much like how kids are exposed to K-pop nowadays. Another influence for me, in particular, was manga and anime from Japan. 
Mary and I love traveling to Japan. To us, Japan is this country where creativity is applied to every aspect of life. There are always some interesting to discover around the corner. Everything is well designed and pleasing to the eyes. I think their attention to detail is incomparable. I also think Japanese aesthetics are unique in how they absorb influences from other cultures without losing their own identity. We don't travel to Japan that often since we have kids, but it will always be a destination special to us.
ii) How did the idea of creating manhole pins start? 
We noticed the pretty manhole covers when we were in Japan, but to be honest, we did not think much of it at the time. It was not until I came across different websites and online groups where fans shared different manhole designs did the variety and high level of quality blow my mind. There are countless manhole designs all around Japan, and most of them are amazingly interesting and beautiful.
I started doing enamel pins for my toy brands around the same time, and one day, it just occurred to me that manhole covers would be an amazing subject to turn into pins. It certainly was something I wanted for myself.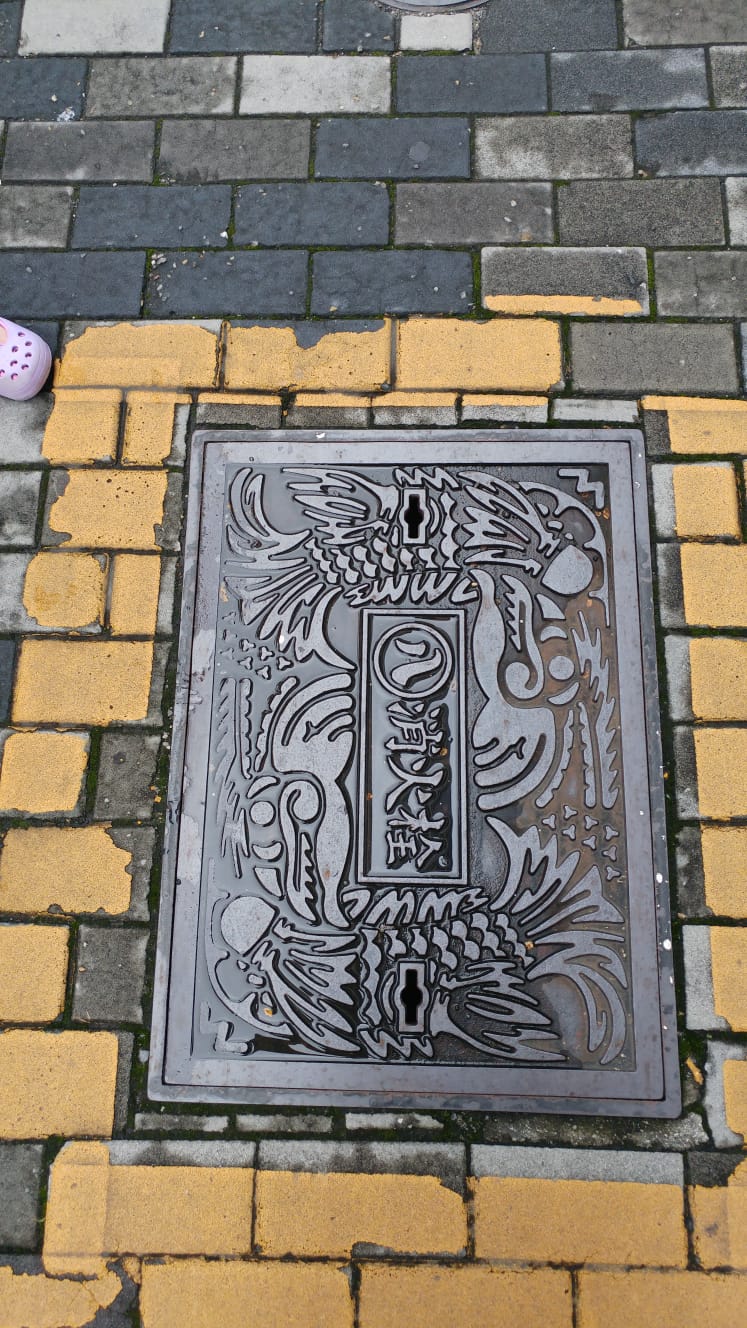 iii) How is it like working with Mary? 
It has been many years since we worked together at an agency, so it's great to work together again. The way we work is rather organic. We both contribute to the selection and research on the pin. She then comes up with the marketing plan, and I create most of the artworks and promotional materials (including all of the visuals on social media). We communicate daily on the project.
We did not have too much of a struggle, but promoting and communicating with those who are interested in the project is a lot of work.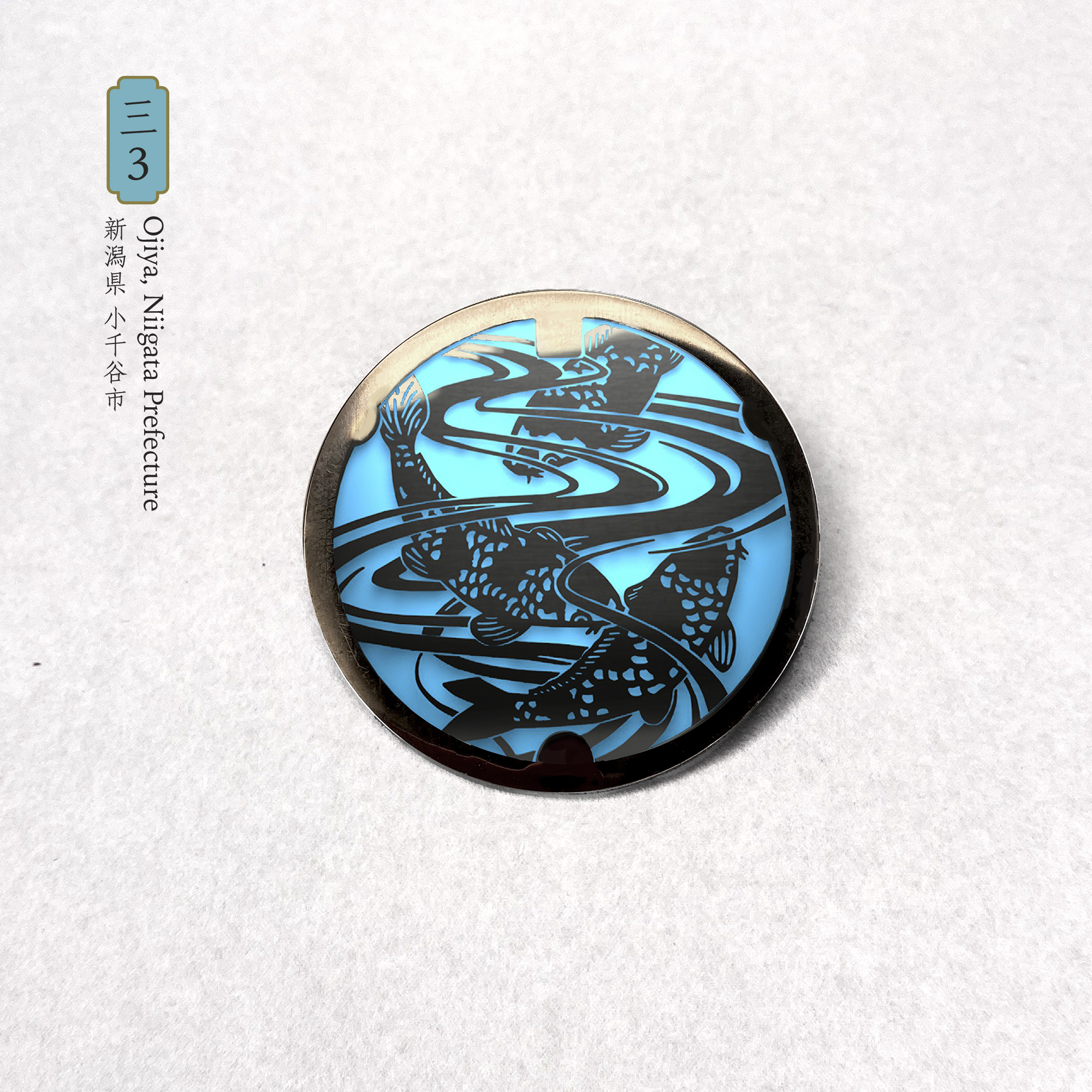 iv) Apart from using the same manufacturer as Classicbot, what other knowledge have you applied from previous experience for this new Kickstarter project? 
My Kickstarter project for the Classicbot iBoy was a really valuable experience. We learned that the first day of the campaign was very important. We did okay with iBoy by offering a limited early-bird discount, but we thought we could do better. That was why we offered the mini Tokyo pins for the first 80 backers, as well as an early bird discount that lasted for only 24 hours.
The mini pins proved to be very successful. We believe it was the reason why the campaign reached its goal in only 6 minutes. We also learned from experience that there would be people who were not familiar with how Kickstarter worked or how to trigger specific actions like increasing the pledge for add-on items. So we tried to make the instructions as clear as possible.
v) How would you describe the level of freedom you have in this project?
We thought of ourselves more like curators or fellow manhole cover fans than a designer for this project. Our goal was to recreate them in faithful manners. We also wanted to include designs from different parts of Japan, each representing a different subject matter. In the end, we were very quite happy with the selection. We covered various subject matters ranging from nature to myths, local architectures, and local cultures. 
We were not thinking about how to express ourselves, even when we were designing the wall scroll that houses the pins. All we thought about was how to best compliment the manhole covers.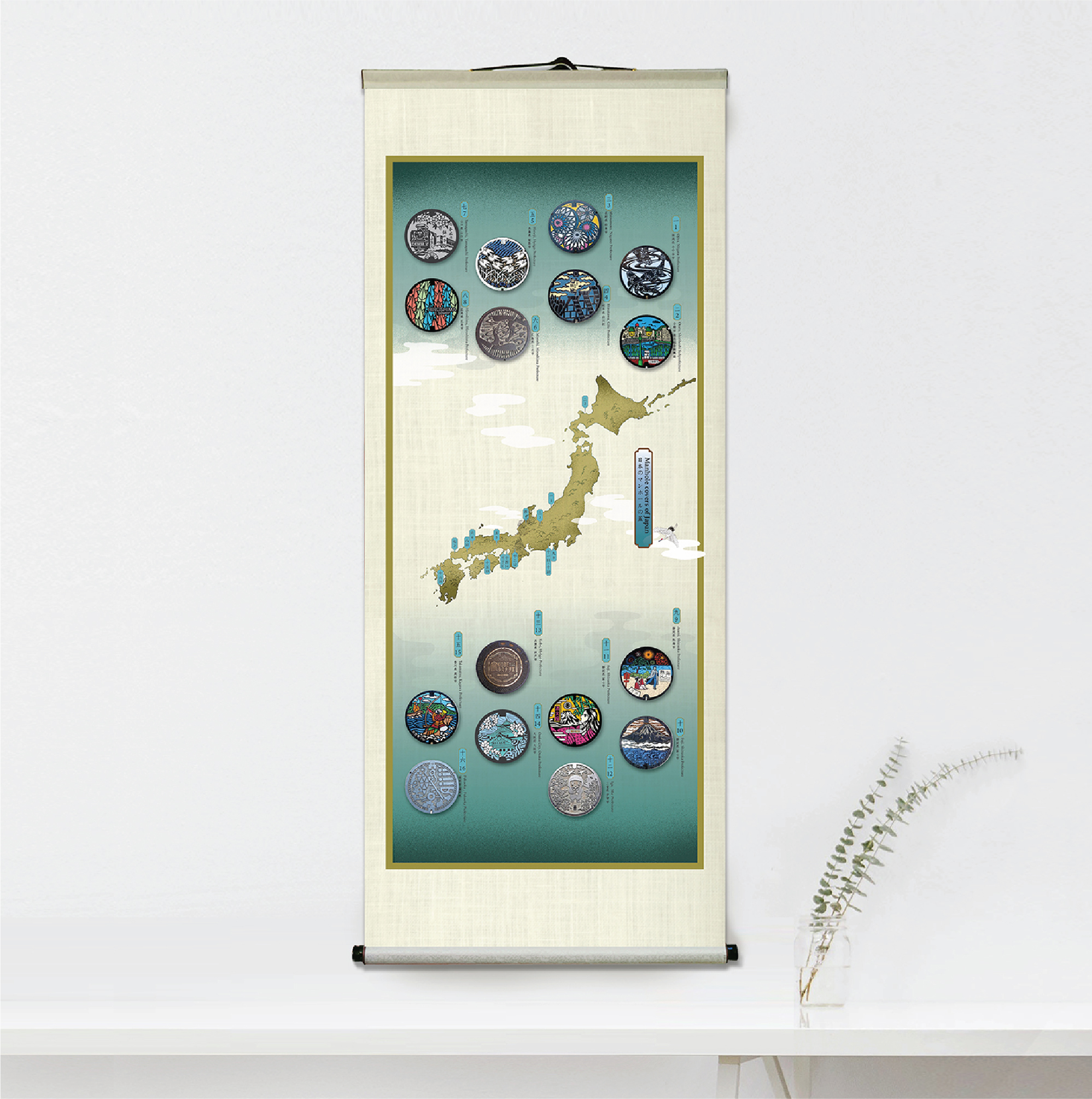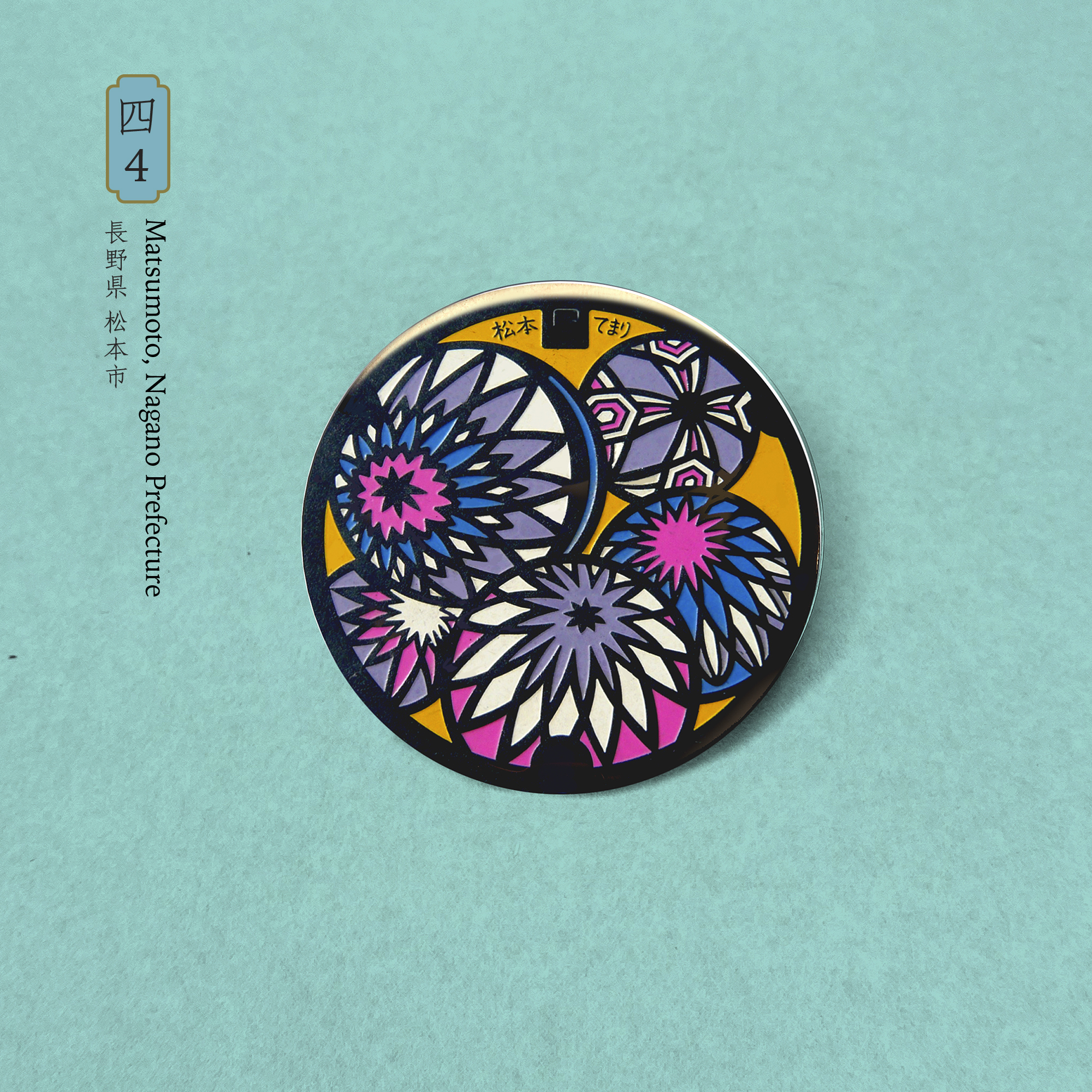 vi) What have you learned from the designs? 
We learned the history of Nishikigoi (a special Koi fish) from the Ojiya manhole. We learned about Temari, which are colorful embroidered handballs from Matsumoto. We often see these balls in anime or traditional Japanese paintings, but we don't know anything about them. One of the villains from Demon Slayer (Kimetsu no Yaiba, 鬼滅の刃), the most popular anime right now, uses these balls as a weapon. It was fascinating to see how creatives from Japan bring their traditional culture to life. We also learned about the astounding white egret orchid from Hajime Castle. We have never seen any plant like it. I did most of the research online, although a couple of fans from Japan did give some advice and suggestions.
vii) Can you tell us your creative process behind the Ukiyo-e print? 
We just thought it would be neat to have something that ties all the pins together as a single collection. Usually, pin collectors either use a corkboard or a piece of fabric to hang their pins on the wall. So it was rather easy for us to land on the idea of a wall scroll since a lot of the manholes have a traditional look to it. 
We researched a lot of Ukiyo-e wood prints because we love the way it looks. We actually tried drawing something more elaborate, with elements of each pin combined into the drawing. However, we found it distracting. So, in the end, we just kept it simple and created a hand-drawn map of Japan with graphic elements borrowed from typical Ukiyo-e wood print, including swirling clouds, wave patterns, as well as a simple graphic that acted as the label.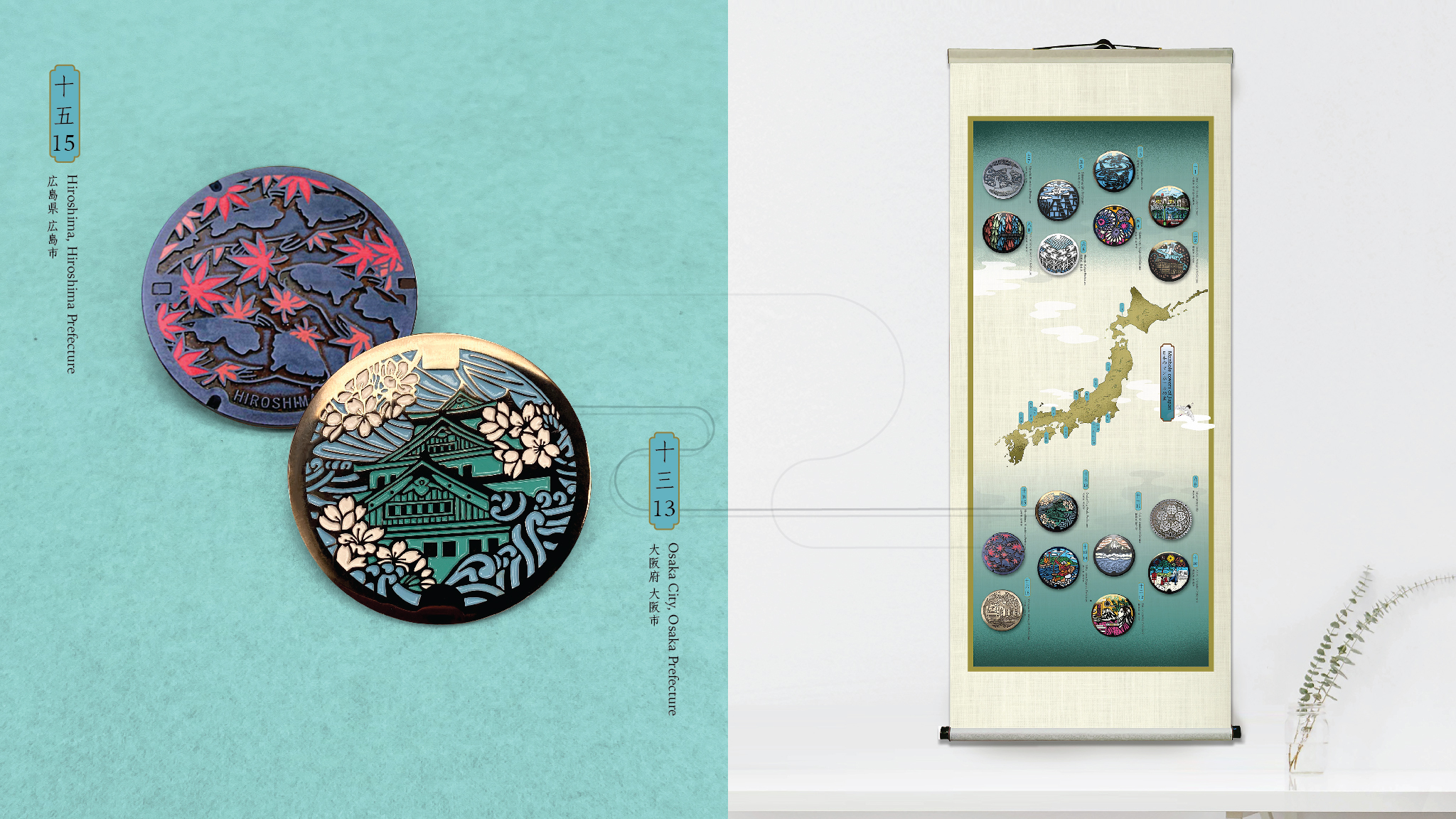 viii) What advice would you give to those looking to start their creative Kickstarter project? 
I think you need to make sure you have enough fan base before you launch. I had a small number of 400 IG followers, but I had over 800 people on my email subscription list, where many of them had expressed their interests in my campaign. 
There are so many campaigns on Kickstarter right now that it is almost impossible to stand out from the crowd without an existing fan base. 
You need to get funded very quickly to be found by non-fans, as this is just how the platform algorithm works. The idea is to make sure that your fans back you ASAP, so you gain traction. This way, Kickstarter will put your campaign higher, making it more discoverable by others. If you don't have the fan base or if they don't show interest, don't hesitate to change your creative idea or the way you communicate to them. On Kickstarter, it is more about making things they want to back than making things you want. Ideally, it could be both, just as DrainArt has done so for us. We are very grateful for that.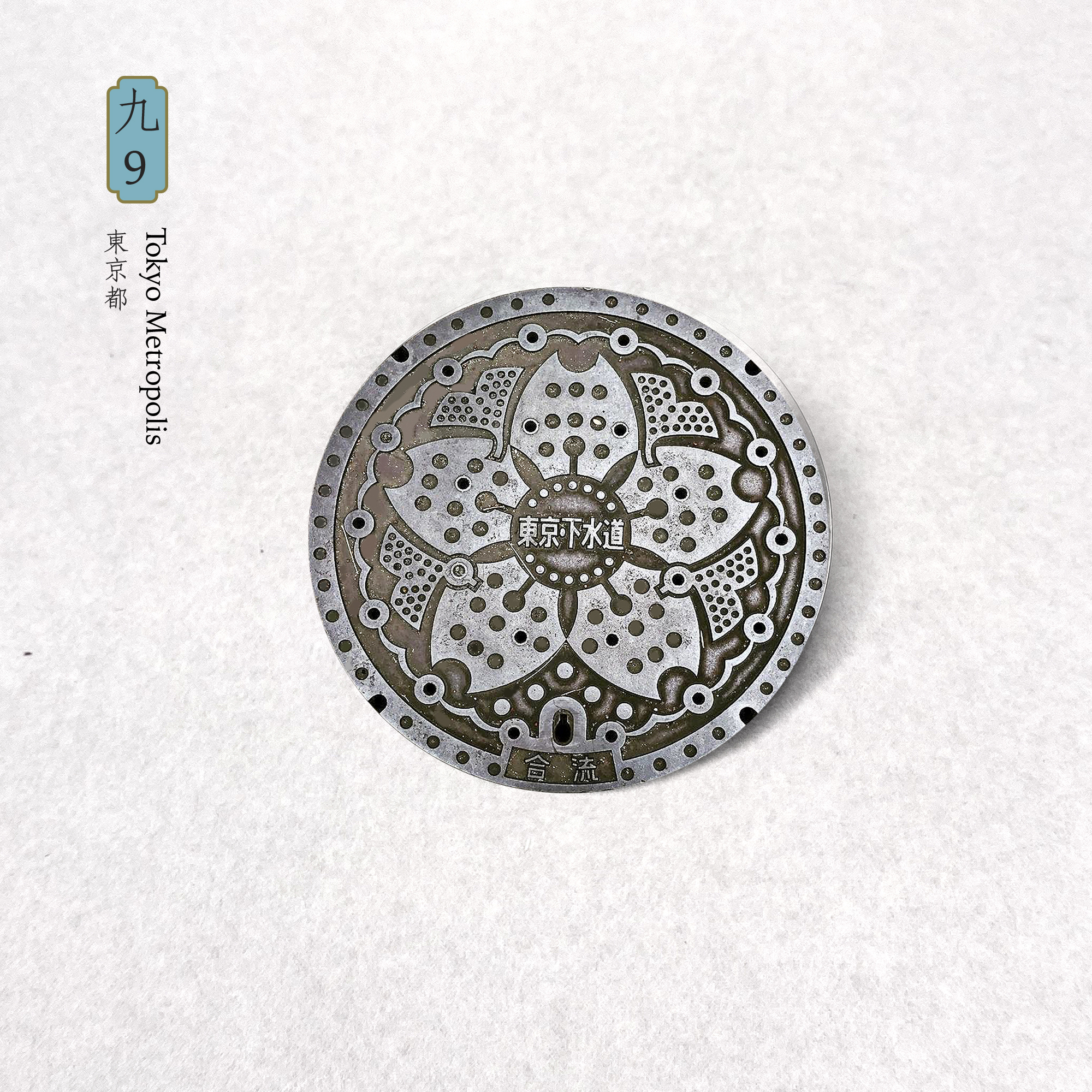 viv) Were there any interesting comments from your fans that have influenced the project?
I love to interact with our followers and I am humbled by their advice. As an advertising creative, I was quite arrogant, and I looked down on consumer research. But now, as someone who runs a business and a campaign, I started to love talking to my customers.
You cannot assume that everyone shares your thinking. For example, I did not include the Tokyo manhole in my original selection list. But a fan said otherwise. I'm glad I listened because it turned out to be one of the most popular designs. 
x) To you, what makes a good design?
That is a really broad question. I think design, in its purest and simplest form, is about solving problems elegantly. It can be physical problems or emotional ones, and I think my manhole cover enamel pins solves the latter. And that is the problem of wanting to feel connected to Japan or its culture when one is at home.
I think design, in its purest and simplest form, is about solving problems elegantly.
When a design is done really, really well, I believe it can even impact cultures and become a legacy on its own.