Cristina Guizar, founder and designer of the San-Francisco-based brand Centinelle has woven tales of silk and humor in her latest Fall Winter collection. Guizar's love for animals, nature, and the small pleasures of life is visually apparent in her designs– with dancing cats under disco balls and repetition of hopping bunnies for days.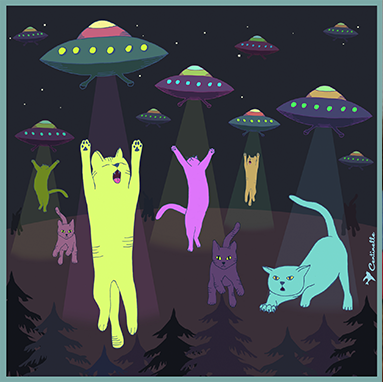 Guizar describes herself as a "hybrid" between a city girl and an avid nature lover. When asked about her F/W '16 collection, she stated that the "lively and aspiring" environment of the city and her fascination with Earth's natural beauty has led her to produce the works. "Fantasy, memory, and myth are the three words I would select to describe Centinelle", she states. These three words lies in the core of the magical mix that inspires Centinelle's scarves as well as one of the main narratives behind the brand.
Humor also plays a significant role in Guizar's works, both visually and conceptually. "Humor is a part of my daily life, and I would like it to be a part of the lives of many others". Guizar uses a "chic sense of humor" to describe her vision for Centinelle, and this notion governs the majority of her creative processes. "I decided to produce scarves because I am a traveler – I wanted my products to travel around the world as much as I do". Guizar states that her ability to travel makes her privileged and extremely lucky, and therefore she longs to share this with her audience and customers through her designs.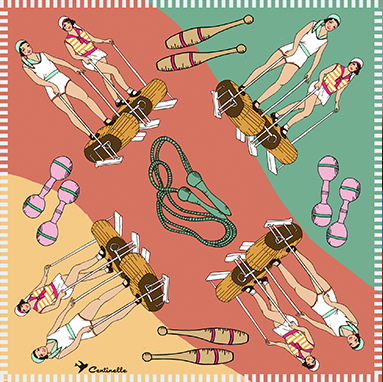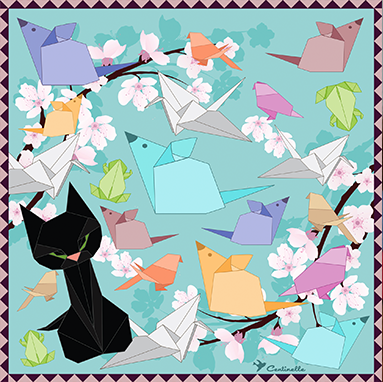 Centinelle's scarves are "Mexican-inspired" due to Guizar's personal background. As a Mexican living in California, she strives to achieve a personal connection between her and her works as well as paying tribute to the Hispanic culture. Her F/W '16 collection includes Mexican pin-up scarves, which aptly describes her future ambitions and endeavors to further produce something in close proximity with her sense of identity. Guizar claims that she does not actively and consciously search for inspiration, however, she admire artists including Midori Yamada, Yuko Furusho, Adolie Day, and Audrey Kawasaki, to name a few. When asked about her favorite ways to style a scarf, Guizar expresses her love for classic looks, stating that "the simple knot on the neck is definitely a favorite, as it elevates any outfit – both casual and formal. It is a small hint of chic and fun that completes the outfit".
As for Centinelle's future plans? "I'd love to work with creative artists and designers who I like and get inspired daily, on something like a scarf or print collaboration. Brands like Paul and Joe Sister, as well as Cynthia Rowley". Be sure to check out Centinelle's official website and their latest F/W '16 collection here.