Space – a rare commodity that comes with a hefty price, especially among the bustling walls of the modern concrete jungle. The sense of suffocation is most prominent within the first couple of weeks in Hong Kong, after having spent a lengthy period of time overseas. According to the 'Minimum Living Standards' (2008) research conducted by the Chinese Society of Housing Studies, it was revealed that Hong Kong's average living space per capita lies at around 160 square feet, a meager amount compared to the rest of the world (HKFP). For many years, this phenomenon had struck up a vivid conversation surrounding the discourse of living space led by the local youth in particular, a generation that will be deeply affected in the near future.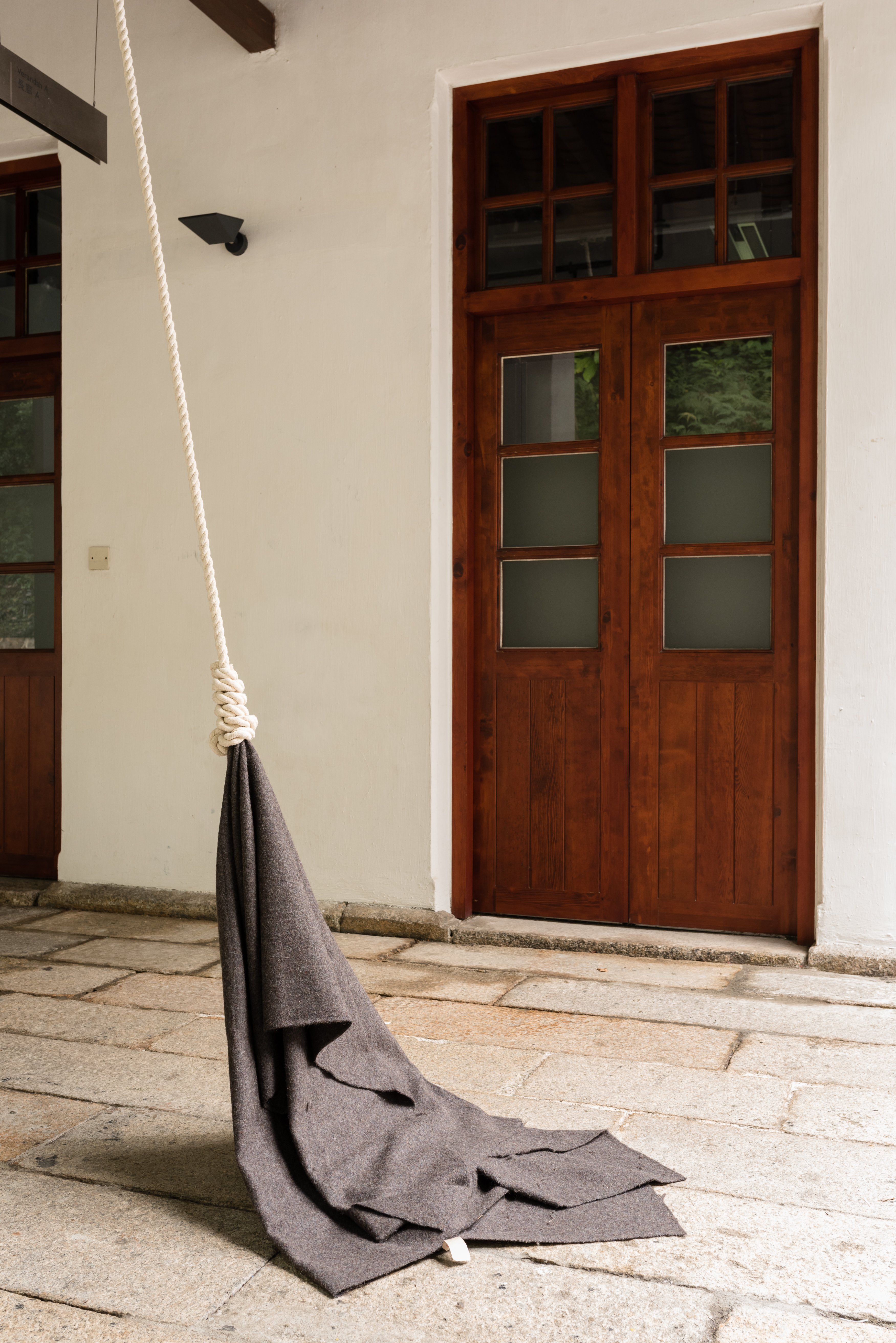 As a result, the 'Breathing Space' exhibition at Asia Society Hong Kong Center (ASHK) was born. Through the lens of a shared urban experience, current affairs, and the theme of a 'collective versus personal history', 'Breathing Space' features the works of 11 local artists, each presenting their own messages held close to heart. 'Contemporary' is definitely the right word: from the venue location, to the choice of mediums used – a large amount of mixed-media installations, sculptures, and videography pieces – to the dark, muted hallways upon entrance, the exhibition invites a thought-provoking (and somewhat ironic) process of imagination and conversation. The venue choice and location are praiseworthy features. With ASHK situated at a somewhat distant area from the looming skyscrapers of Admiralty, viewers are seemingly led into a different dimension, or an unexplored terrain that beckons one to think out of the box. The utilization of both an indoor and outdoor venue is also interesting – viewers must traverse through a spacious rooftop podium before reaching the indoors section of the exhibition. 10/10 for site interaction and irony, as the exhibition draws upon a venue brimming with space to convey the hardships of everyday life without it.
The artistic voices that aim to shed light upon relatable and currently contested social issues in Hong Kong are most noticeable. These general themes include limited housing with prices of unreachable heights, the Hong Kong identity, and relations with China, to name a few. Cheuk Wing Nam and Ko Sin Tung respond to the local youth's rising anxiety towards the 'Hong Kong dream' of settling for good in a high-rise apartment with a "spectacular sea view", as well as a sense of domestic suffocation and cluster.
Through recycled wine bottles, and the use of sounds and LED lights, Cheuk has created an immersive and interactive space of anxiety and urgency, where plastic pieces are lightly tapped against the interiors of the wine bottles to generate high-frequency sounds. This installation is symbolic to trapped moths and fireflies, unable to battle against their fate within a confined environment. Ko's piece consists of a brightly lit neon sign, reading: "spectacular sea view" (無敵海景), drawing attention to the clichéd but faraway goal of the modern white-collar office workers. The neon sign hovers amidst the blackened surroundings of the indoors venue, manifesting an imagined materialistic goal of luxury that is governed by society's expectations and guidelines to survival. This is a truly striking piece, as the radiance of its blue neon lights seems to be all that the viewer can see within the room, reminding us of this all-pervasive, yet revered and somewhat hopeful notion of luxury. In addition, Chilai Howard cleverly claps back towards the government's demolition of the historical Queen's Pier back in 2008, utilizing a video clip of the recurring opening and shutting of doors in Shek Kip Mei's Nam Shan Estate to relive his memories before its demolition. The repetitiveness in the opening and closing notion of these domestic doors generates a sense of the mundane, meaningless void that looms during an isolated night at home after a long day of work.
The Hong Kong identity had also become an increasingly popular and challenged notion in recent years. South Ho's incredibly striking installation consists of a compact brick construction with the words "Made in Xianggang" stamped all over in black, paired with a series of photographs of Ho himself standing inside the construction. The piece was named Defense and Resistance, as it narrates the collective combat against "invaders" from up north and reflects the Hong Kong people's conflicted feelings between self-defense and restriction (due to the compression of the compact brick construction) since the 1997 Handover. It proposes the question of how the people of Hong Kong can derive their very own identity amidst an ever-changing social environment, and what exactly this identity is comprised of.
Magdalen Wong brings the discourse of living space into domestic life, and the narratives behind doors. Chains (2010) explores the notion of home and domestic security that is physically preserved with chains, locks, and sturdy doors. Here, Wong uses second-hand necklaces to represent non-physical and intangible factors that contribute to domestic security, including familial bonds, values, and the familiarity of a home. This piece ultimately demonstrates that the sense of safety requires both tangible and intangible features to be upheld.
As a socially responsive and sensitive exhibition of creative works by the local artistic community, 'Breathing Space' is truly a gem that is both thought-provoking and educational of the unheard voices amidst today's generation. Within Hong Kong's fast-paced and overcrowded urban environment, little physical and non-physical space is provided towards food for thought in some of the most pressing and important issues that await the youth. Through the lens of creativity, 'Breathing Space' allows the viewers and their imagination run wild, while maintaining an effective and expressive conversation.
For those interested in viewing and learning more about the other works that were not mentioned in the article above, 'Breathing Space: Contemporary Art From Hong Kong' will be open and free to visit until August 13th, 2017 at Asia Society Hong Kong Center in Admiralty. Check out ASHK's page for more information.
Photographs courtesy to ASHK.