I was a major clutch girl in the beginning of 2014, and then I met the perfect backpack at the end of the year and have been wearing it ever since. I'm in search for a cross shoulder bag still, and am waiting for that potential one coming through the mail soon. I think these three types of bags are any girl's essential, and if you have yet to find yours, check out what we have here for you!
Zashadu, one of our favorite brands we have covered some time ago here is presenting their latest SS collection. Featuring their classic fold clutch model in a series of new interesting pastel colors, they are functional and easy to match; a definite go-to for us when it comes to the search of a daily bag.
The key to a girl's backpack is that it is big enough for your essentials but small enough to match for a cute or feminine look. MCM's SS15 Bebe Boo appears to be exactly the size I'm talking about. The bag also offers versatile wearing as a backpack, a cross-body, a shoulder or a waist bag. Play around with their strap design and see what suits you best!
Last but not least, Cruciani might not be the brand that people would usually go for to look for a handbag, but the brand is surprising us this season with their latest Essenziale collection. With a lot of color combos to choose from, the sturdy calf leather bag is soft and perfect to match with skirts and dresses.
Zashadu SS15 Easy Fold Pouch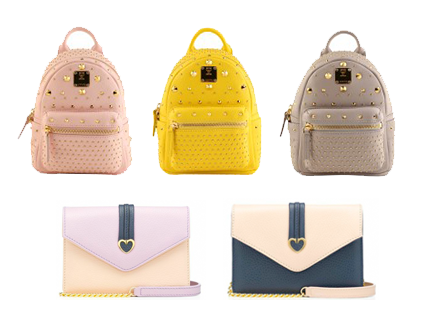 MCM SS15 Bebe Boo/ Cruciani Essenziale